Content marketing is the process of planning, building, giving, sharing, and publishing content via channels such as social media, blogs, websites, podcasts, apps, press releases, and more. The main goal is to reach your target readers and build brand awareness, sales, engagement, and loyalty.
Why is content marketing important?
It helps you to educate your leads and prospectus about the products and services you offer.
It boosts conversions.
Create relationships among your customers and business that result in improved reliability.
Show your readers how your commodities and services determine their challenges.
Build insight into the community around your brand.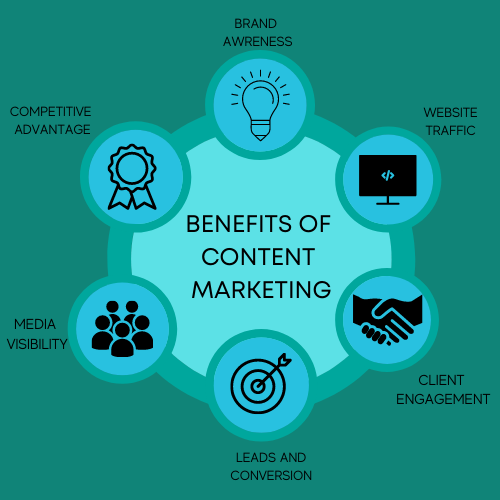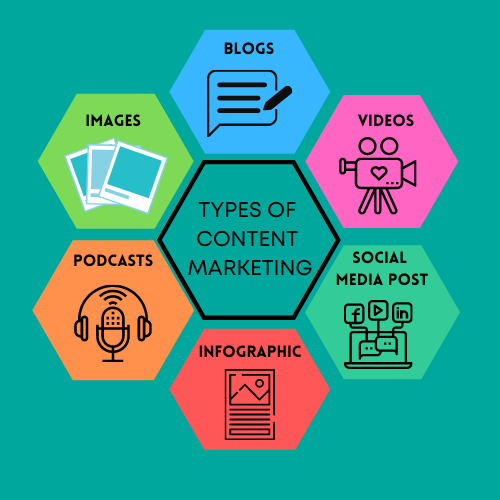 Types of content marketing:
There are so many types of content marketing that you may choose to add to your strategy:
Infographic content marketing – 
Infographics are the ones that display the content, information, and data in an easy-to-understand graphic format.; With a mix of simple wording, short statements, images. 
     2. Blog content marketing – 
Blogs are the most influential type of inbound content marketing and allow for great creativity in their purpose and topic. With a blog, you can promote your products via links and incorporate product information.
3. Paid ad content marketing –
Paid ads can help you reach a broad audience and allow you to position yourself in all of the places you want to be perceived; paid ads are especially beneficial when paired with inbound marketing. You can share paid ads on many platforms like social media, landing pages, and banners.
4. Social media content marketing –
Almost all the residents of the society are no social media nowadays that implies the reason why so many businesses invest in social media marketing
There are numerous platforms like Facebook, Instagram, Pinterest, and Snapchat from where you can create and share content each them.
The Future of Business is Knowledge
Gone are the days when your potential customers would walk into the store for your products and services. It is the era of consuming valuable information which forms a key proposition in the reader's work, personal, and the life beyond.
That's where content marketing comes into the picture. In the list of best content marketing companies, our ranks are pretty high.
We make your brand bookmark-worthy
Be it a simple follow on social media, a like on every post, or an avid subscriber of your weekly newsletter, our content marketing strategy salvages your users' interests by linking them up with what they wish to read.
With resourceful gantry of information and a vault of content acting as the brain food, every reader coming to your website to skim through a blog or by opening a newsletter would surely browse shop if they like what you offer them as a source of knowledge.
Say hello to a fruitful pack of leads ready to be converted.
Search engines love our Wordsmiths
We at Zenik Media have a team of artistic souls who scribble just the right words to make the search engines blush.
With a holistic approach towards organic rankings, we invigorate your cash cow that keeps on giving without any additional investment.
Top rankings lead to top results. We are a team of certified content marketers in the field of SEO content marketing, B2B content marketing, and digital content creation.
All types of Copy – one Zenik jamming room
Our team of copywriters is specialists in whatever it is you are looking for. Let's explore some of our content marketing services:
Content Marketing Strategy – Unsure about what to post on your four different social media networks every single day of the week? Have a look at our content strategies that are aligned to your end targets. They keep your audience engaged, nurture a decent follower count, and lure in the prospects.
Website Copywriting – Gone are the days when you could write your heart out on your business website. Our team of copywriters is updated with every niche to ensure a structured experience and a positive user flow from one page to another. Our focus on SEO gets your website ranking for the 'money keywords'.
Blogs, Case Studies & Collateral – Every business relies on social proof and without it; the business world doesn't run on hearsay anymore. We keep your blogs and case studies aligned to what your prospects what to skim through to gather information as well as decide upon when the time is right in the buying stage.
Webinars, Podcasts & Video Content – It's always a case of moving ahead with the trend and these three are the knowledge-sharing instruments of the future. A video has thrice as many chances to convert than a blog would and podcasts really get your enterprise's model in the listeners' heads, making these medium a perfect branding tool.